Submitted By: Rob Spicker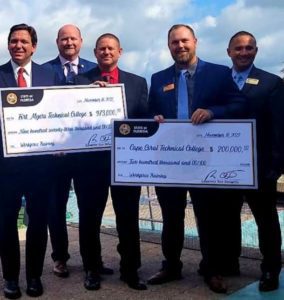 The School District is excited to announce Fort Myers Technical College and Cape Coral Technical College have received nearly $1.2 million in grants from the Workforce Innovation and Opportunity Act (WIOA) grant program and the Job Growth Grant Fund (JGGF). The funding will support new and existing programs at the technical colleges.
"We are extremely grateful to have received workforce training funds from the Governor's Reserve and Job Growth Grant made available through the Workforce Innovation and Opportunity Act," said Fort Myers Tech Director John Roszell.  "This award will further the Governor's goal to make Florida number one in the nation for workforce education. The grant will allow Fort Myers Technical College to expand program offerings in a few key areas. Workforce training for Diesel Maintenance Technicians and CNC Production Specialists are now on the horizon for job opportunities in Lee County."  
The $973,000 grant to Fort Myers Technical College supports the addition of new programs in Diesel Maintenance Mechanic and Computerized Numerical Control (CNC) programs. Both programs will start offering classes in the 2023-2024 school year.  The funding provides two years of seed funding to hire instructors for the programs as well as purchase the necessary fixtures, tools and equipment. Students in the diesel mechanic program will graduate with the necessary training and certificates for entry into the diesel service industry. Computer Numerical Control students will be trained and certified in the automated control of machine tools through the use of software embedded in a microcomputer attached to the tool.
Cape Coral Tech received $200,000 to renovate the school's Nursing Simulation Lab and enhance the existing Practical Nursing program. The program is the top ranked LPN program in Florida.
"This is a great opportunity to immediately strengthen the nursing programs at Cape Tech," said Charlie Pease, Cape Coral Technical College Director. "The funds awarded will help us expand and enhance our nursing simulation lab and ensure that it's up to industry standards. The key to excellence is to never stop improving."
The Workforce Innovation and Opportunity Act (WIOA) grant program and the Job Growth Grant Fund (JGGF) support short-term, high-impact training for students who want careers in high demand industries.
"Today's awards will go a long way for Southwest Florida communities that are still working to get back on their feet following Hurricane Ian, and I look forward to the opportunities these programs will create for Floridians," said Florida Department of Economic Opportunity (DEO) Secretary Dane Eagle. CareerSource Florida President and CEO Michelle Dennard added, "The Governor's investment will provide additional resources to connect Floridians with rewarding new careers."