By Ed Rodgers
Tiger Woods is often credited with changing the golf industry and boosting its popularity. A few generations before him, though, another golfer's impact on society was even greater.
Patty Berg brought an entire gender to the game of golf.
As Berg won championship after championship, 60 in all, she made golf a popular sport for women. During her illustrious career, Berg won 15 majors – the same as Woods. The Hall of Famer was the first U.S. Women's Open champion and first president of the Ladies Professional Golf Association (LPGA). To this day, she still is the youngest player, male or female, to win all four majors.
Berg was unstoppable on and off the course. She gave an estimated 4,000 golf lessons and clinics during her lifetime, passing her love for the game to three generations of golfers. She inspired girls and women everywhere to play sports. She helped raise money for scholarships that allowed younger generations to take up the game.
This year marks 15 years since Berg passed away. When sports legends like Willie Mays, Billie Jean King, Michael Jordan, Jackie Joyner-Kersee, Wayne Gretzky, Cheryl Miller and others retire, our memories start to fade. Their impacts on the game are never forgotten, but the past can become blurred by the present.
A community of history buffs and golfers have come together in Fort Myers to make sure Berg's legacy doesn't fade. Before her death, Berg permanently loaned a vast collection of golf memorabilia to Cypress Lake Golf Club, where she was a founding member who helped establish the club in 1959. The clubhouse's aptly named Patty Berg Lobby features wall-to-wall display cases housing Berg's trophies, medals, plaques,
photos and other historic relics. Each year, Cypress Lake Golf Club hosts the Patty Berg Memorial Golf Tournament to raise money for youth golf programs.
Mixed media artist Christopher "CR" Obetz also is passionate about preserving golf history, but through art. He created the Pop Art Golf: Legends and Legacy series of paintings based on the iconic scratchboards of renowned artist and illustrator Anthony Ravielli, whose brilliant depictions of athletes in motion graced covers of Sports Illustrated and appeared in more than 100 books. Obetz came across a series of Ravielli's original scratchboards and drawings that were headed to auction, and purchased a collection that included artwork featuring golf legends Bobby Jones and Ben Hogan's full sequence of swings.
"They represented forgotten beauty that was about to be lost," Obetz said.
Within that collection was Patty Berg – Anchored, a piece showing Berg lined up behind the ball preparing to swing, overlaid with a symbolic anchor.
"She was grounded in her stance the way I metaphor being grounded in life," Obetz said. "Patty was grounded in life and she shared those values with everyone."
Obetz recreated Ravielli's sketch of Berg as a mixed media work on canvas. The three-dimensional "Pop Art" assemblage features an original frame inspired by the wood pilings and metaphorical planks of a private footbridge that once connected Berg's home to Cypress Lake Golf Club. The pilings remain near the fifth tee as a reminder of the course's deep history and connection to Berg. Obetz said the assemblage serves as a "bridge" between the past and the future of golf.
On Feb. 8, Cypress Lake Golf Club dedicated Obetz' Patty Berg – Anchored and installed the artwork inside the Patty Berg Lobby, where golfers today and tomorrow can appreciate Berg's connection to the club and impact on the game of golf. Obetz donated his piece to the club.
"She was a giver to the game," Obetz said. "She was a great woman, a great golfer, a great teacher and instructor."
During her playing career and into retirement, Berg touched thousands of lives and improved the golf games of amateurs and professionals alike. Cypress Lake Golf Club's annual memorial tournament ensures Berg is still contributing to the betterment of the game, and Obetz' artwork will also have an impact. Limited-edition, 22"-by-30" prints of Patty Berg – Anchored are available for $450, with 100% of proceeds
benefiting the Southwest Florida Junior Golf Association and Patty Berg Scholarship Fund. For more information, please contact CR Fine Art Studio (PopArtCR.com; 239-470-7084) or Cypress Lake Golf Club (CypressLakeGC.com; 239-481-1333).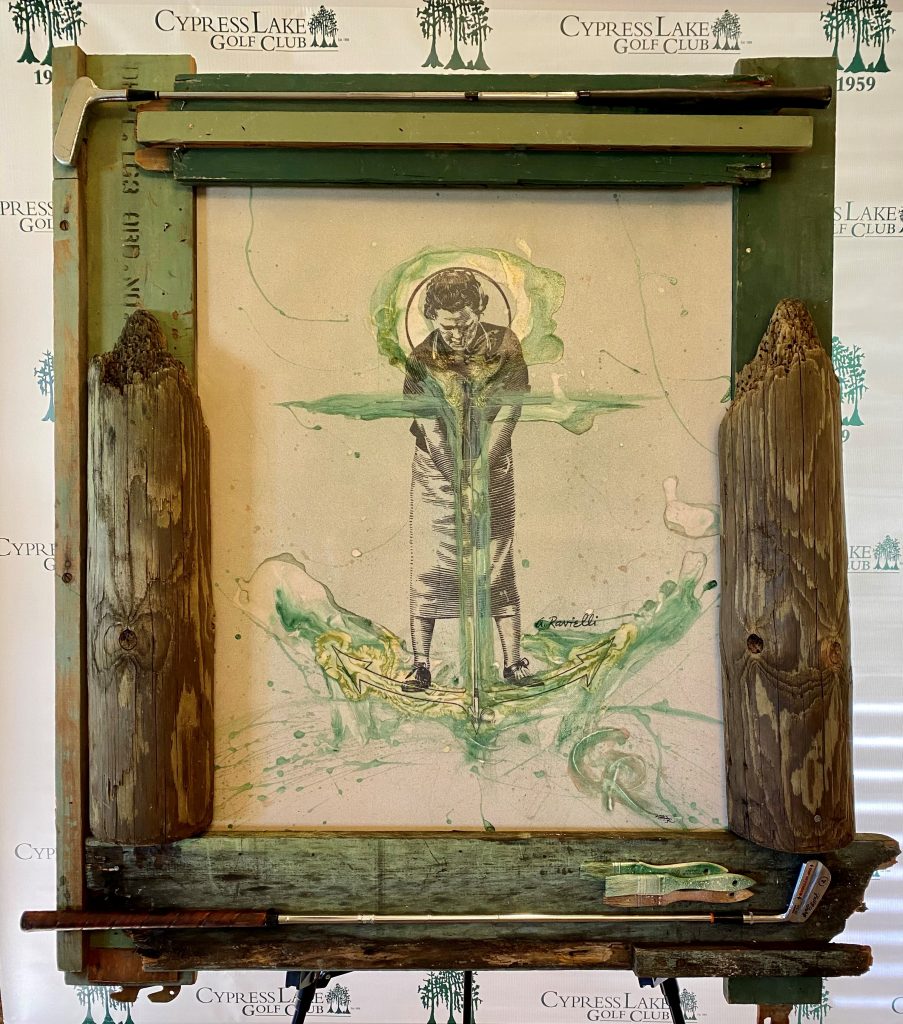 ABOUT THE AUTHOR
Ed Rodgers is general manager of Cypress Lake Golf Club in Fort Myers.