By: Terri Lewis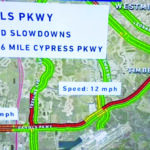 People are moving into Lee County and residential property construction has increased, but homes are far from jobs and shopping. The largest growth in residential construction has been in Lehigh and Cape Coral. More people are driving farther. Post-Ian, the traffic congestion has become even worse with many traffic lights not functioning and an influx of people working on clean-up and construction, adding to the regular commuter congestion. Just look at a typical morning report from Wink.
The Fort Myers-Cape Coral metro area in 2021, according to a traffic congestion ranking index, was the 13th WORST in the country for traffic congestion. We are just behind Tampa.
TomTom created the report collecting data from a variety of different sources. The data includes time, location and speed of moving vehicles.  This data allows the ability for them to calculate how much extra time a driver will spend in traffic during rush hour. So how much time are you losing each year sitting in traffic? It's not hours. It's days.  
13. Cape Coral-Fort Myers: We are sitting 48 hours – 2 full days each year – wasted… sitting in… traffic.
If you can live close to where you work and shop, it's ideal. It's getting easier to pick a location by looking at the "Walkability Score" of a property which ranges from 0-100. For each address, Walk Score analyzes hundreds of walking routes to nearby amenities. Points are awarded based on the distance to amenities in each category; grocery, food and drink, parks, shopping, sports and recognition, entertainment, emergency and services.
So what are Fort Myers & Cape Coral's Walk Scores?
Cape Coral has an average Walk Score of 17: Car-Dependent – almost all errands require a car.
Fort Myers has an average Walk Score of 35: Car-Dependent – Most errands require a car.
Minneapolis, MN, that really, really, cold place with lots of snow? The city has a Walk Score of 71: Very Walkable – Most Errands can be accomplished on foot.
If you're not happy with the congestion, reach out to elected officials and ask them to embrace Smart Growth which has two pillars:
Urban planning and land use that provides for compact multi-use zoning. Home, work and shopping locations are close. It is the opposite of urban sprawl.
Higher density transportation options that carry more people, quickly and use less land. These include public transit, bicycles, walking, ride/share, etc.
If we don't change, congestion will get worse. There is the old adage "Insanity is doing the same thing over and over again and expecting different results."
ABOUT TERRI LEWIS
Terri Lewis is Director of Planet Connected, an Industrial Technology Consulting organization based in Fort Myers. She leads LeeConnected, a growing coalition of businesses and residents of Lee County who are advocates for transportation solutions. Email Terri at press@eastleenews.com