Submitted By: Holly Boldrin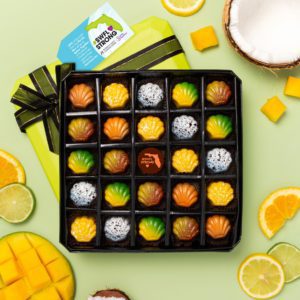 To support Hurricane Ian relief efforts, Norman Love Confections has created the #SWFLStrong Florida Box, with 50% of every purchase through early November going to Better Together, a local nonprofit dedicated to serving families and children.
"While Hurricane Ian has devastated parts of Southwest Florida, the people of our community are rising up to help one another in some incredibly moving and inspiring ways," said Norman Love, founder and CEO of Norman Love Confections. "So many families lost everything, and Better Together is literally going door-to-door in the hardest hit areas distributing food, water and other relief supplies directly to families. In some cases, Better Together's trained volunteer host families have invited these children and families into their homes, giving them a safe, secure place to stay while they get back on their feet. This is truly a shining example of how our community comes together in a time of crisis and it's our honor to support Hurricane Ian survivors through sales of the Florida Box."
The 25-piece specialty Florida Box includes seashell-shaped, ultra-premium chocolates featuring five flavors of Southwest Florida: Key Lime Pie, Florida Orange, Mango, Lemon and Coconut, as well as a special #SWFLStrong logo chocolate. The Florida Box sells for $58 with 50% going to Better Together. This limited-edition, specialty box can be purchased through early November 2022 in-store or online at NormanLoveConfections.com.
Better Together is made up of two programs – Better Families and Better Jobs – that help parents who are going through a hard time to keep their kids out of foster care, find work and address the root causes of their struggle so that they can reunite as a family with the tools and support system to thrive. The nonprofit is providing a variety of resources to families in response to Hurricane Ian, including temporary child care for first responders and families who need a safe environment for their children, distributing food and supplies to families in need and connecting displaced job seekers with resources and employment opportunities.
"This is a devastating time for so many, especially those who were already struggling to make ends meet. Families are in critical need of resources and a safe place for their children as they work to repair the damage, secure new housing and find work," said Megan Rose, CEO of Better Together. "We are so grateful for this partnership with Norman Love Confections as we work to keep families together – every dollar will help further our efforts to serve families, children and underserved communities across Southwest Florida who have been heavily impacted by Hurricane Ian."
To learn more about Better Together and its mission, visit BetterTogetherUS.org.
ABOUT NORMAN LOVE CONFECTIONS
Founded in 2001 by Norman and Mary Love, Norman Love Confections creates and distributes handcrafted artisanal chocolates from its corporate headquarters at 11380 Lindbergh Blvd. in Fort Myers, Florida. The award-winning Fort Myers-based chocolatier has been lauded more than a dozen times by a leading consumer ratings magazine, including recognition six times for producing the best ultra-premium chocolates in the nation. Forbes.com included Norman Love Confections BLACK line on its list of the nation's top 10 truffles; The Huffington Post listed it among the six best U.S. destinations in its Chocolate Lover's Travel Guide; and USA Today named Love as one of its top 10 entrepreneurs for 2014. Love was named the inaugural inductee of Dessert Professional Magazine's Chocolatier Hall of Fame, partnered with local chefs to present a six-course meal at the James Beard House in New York and Norman Love Confections was ranked among the top 10 shops in the world for chocolate lovers by U.K. media outlet Daily Telegraph.
Norman Love Confections has Chocolate Salons in Fort Myers, Estero, Naples and Sarasota, including a pastry shop and café at Whole Foods Market in Fort Myers salon. Norman Love Confections' chocolates, gift baskets, sipping chocolate and specialty items also can be ordered online at www.normanloveconfections.com. In addition, Norman Love Confections' desserts are offered on 18 Princess Cruises' ships through the "Chocolate Journeys" partnership and chocolates are available at independent retail locations throughout the U.S. For more information visit www.normanloveconfections.com or call 239-561-7215.
About Better Together
Better Together is a nonprofit organization that helps parents going through a hard time keep their kids out of foster care, find work and address the root causes of their struggle so that they can reunite as a family with the tools and support system to thrive. A privately funded and professionally supported organization, Better Together is made up of volunteers who believe helping people help themselves is the best way to restore dignity and bring families together. Through the Better Families program, families are offered a preventive alternative to foster care while they get the help they need. To date, the program has kept 98% of children served out of foster care. The Better Jobs program was created to address the 76% of families that come to Better Together because of economic hardship tied to unemployment. In addition to community job fairs, the program offers job seekers coaching, guidance, support and encouragement through local church partners. For more information, visit BetterTogetherUS.org.