By Mike Welch
Well… We were warned that there would be a surge upon surge of the pandemic due to holiday activities. As we prepare for the development of community vaccination outreach programs to inoculate our seniors and vulnerable persons first – we are all encouraged to "mask-up". Public health is not a singular situation. It requires all of us to participate in the common good of our community and to do our best to protect and look out for one another if we want this crisis to end. At this writing as vaccine becomes more available our county, state and federal governments will be coordinating distribution sites. Keep up to date by checking the Lee County Government website at www.leegov. com/covid-19/vaccine
In this issue of Voices, we highlight one of our local businesses here in town. Our local businesses are the backbone for our community. In these times I can not think of a better resource than our local pharmacies. The Medicine Shoppe is a full-service local pharmacy located at the Lehigh Town Centre – 57 Homestead Road North with a team of pharmacists and tech assistants that are more than capable of guiding us through these chaotic times. I hope you enjoy the pharmacy's article. Give them a call at 239-368-0141.
Carolyn Peplow of Lehigh Community Services provides us with an article on the beginning of the year activities for the agency. They will offer the VITA program again this year. VITA stands for "voluntary income tax assistance" – with a group of certified tax preparers. In addition, due to the pandemic and the crisis our community continues to experience the pantry is open. For further information give Carolyn a call at 239-369-5818 – located at 201 Plaza Drive #3, Lehigh Acres, FL 33936. www.lehighcommunityservices.com
Sheriff Carmine Marceno writes to us this month with an ongoing concern that has intensified during the pandemic – Scammers on Dating Sites. From the closings and restrictions on travel and other venues as well as changes with life events there are a number of scammers trolling dating sites. The Sheriff warns to use common sense. His article is full of common sense. If you have been scammed call the Lee County Sheriff Fraud Line at 239-258-3292.
CHAMBER OF COMMERCE GOLFING TOURNAMENT
The East Lee County Chamber of Commerce (formerly the Greater Lehigh Acres Chamber of Commerce) will be hosting a Golf Tournament event at Majestic Golf and Country Club – Lehigh Acres on Saturday, February 27th – commencing at 7:30 a.m. Chamber members will be notified with the particulars shortly. The tournament will be also in honor of the passing of Kevin Williamson who was a well-known businessman and realtor in Lehigh Acres and in Lee County. A leader in his profession, he was elected to serve as Chairman of the Board of the local realtors association. Kevin was part of the team at Realty World C. Bagans First in Lehigh along with his wife Nancy. Kevin passed away after a short illness in early December. He Will be dearly missed.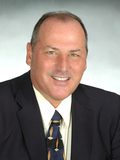 Kevin Williamson