Connors Aluminum & Screening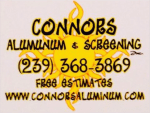 Business Name
Connors Aluminum & Screening
Long Business Description
Screen Rooms Aluminum and Concrete Mobil home packages Hurricane shutters carports entryways garage door screens window replacement acrylic windows and much more.
Business Address
3550 Work Dr Fort Myers, Florida
33916
Mobile Quickway
Business Name
Mobile Quickway
Long Business Description
Affordable and sustainable energy solutions are required to advance global prosperity. We invest in technology and communities to bring the world better energy.
Business Address
233 JOEL BLVD
LEHIGH ACRES , Fl
33936